University of Latvia (Latvia) https://www.lu.lv/cets/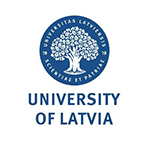 The University of Latvia (UL) with more than 15 000 students enrolled in the 150 different study programmes, 13 faculties and 20 research institutes is one of the largest and leading universities in the Baltic States that concentrates on four main areas: humanities, natural sciences, social sciences and education sciences.
The only higher education institution from Latvia ranked in the QS Top Universities ranking. UL is especially proud that its degree of internationalization has been recognized as high in several rankings, such as QS Top Universities, Multirank, Interfax ranking.
UL pays great attention to the development of international collaboration and supports different schemes of mobility. At present, the UL has signed 200 bilateral agreements with universities around the world, more than 800 Erasmus+ agreements with universities in programme countries and 29 agreements with universities in partner countries. The UL is also active, as a coordinator and a project partner, in initiating and participating in ERASMUS+ projects, Erasmus Mundus and other EU and non-EU funded projects (Horizon2020, Interreg, etc.).
The SumHEIS project will be carried out by the Centre for European and Transition Studies (CETS) in close cooperation with other relevant structures – UL International Office and others. CETS is UL structure since 2000 engaged in interdisciplinary and multidisciplinary research, teaching activities and project implementation on different European and external relation issues.
The Centre also hosts EC Jean Monnet projects since 2001 including Jean Monnet Centre of Excellence (since 2011), Jean Monnet Ad Personam (since 2013), Mari Currie Centre of Excellence (2006-2009) and European Studies Master Programme (2011-2018).